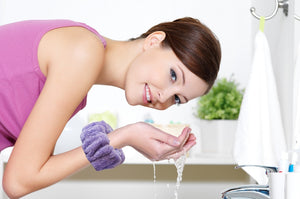 WristBrella® - Umbrellas on Your Wrists
Original Water Absorbent Skincare Wristbands 100% Cotton
NO MORE BATHROOM MESSES!
Introducing all NEW WristBrella® Water Absorbent Skincare Wristbands - designed to stop the flow of water down your arms as you wash your face! No more puddles of water all over your counter and floor! No more wet sleeves and shirts!
PATENTED
WristBrella® Original Skincare Wrist Bands 100% Cotton
Simply slip on a pair of our ultra-absorbing fluffy wristbands and they'll quickly soak up water, allowing you a frustration-free and so much more enjoyable skin care routine!
Learn more
★★★★★

I LOVE my WristBrellas! They are such a genius and phenomenal product 💙

@the.beautyofskincare
★★★★★

These soft, absorbent, 100% terry cloth cotton cuffs soaks up the water, leaving your sink top clean and dry and more importantly, your arms and sleeves! They are available in a variety of fashion colors and a handy bag for storage!

Desiree D
★★★★★

I always make a mess when washing my face, water all over the counter and floor kind of mess lol. So this is the perfect solution for just that.

Carla
★★★★★

I am so happy to say that I can FREELY wash my face and never have to worry about a puddle around my sink and on the floor anymore 👏😊

@chofulloflove
★★★★★

Do you hate washing your face and having water drip down your arm and all over the counter? I do, I can't stand it! Now you don't have to with the WristBrella! Just place this on your wrist as you wash your face and the WristBrella catches and absorbs the water.

Kimberly
★★★★★

I absolutely hate washing my face and having water run down my arms. Seriously, sometimes, especially during winter, I don't even want to wash my face in the evening at all! These are a game changer. You just slide them on and they absorb the water. I am in love!

@agomalley_beauty
Happily based in Tennessee, USA
PATENT US D959, 093 S